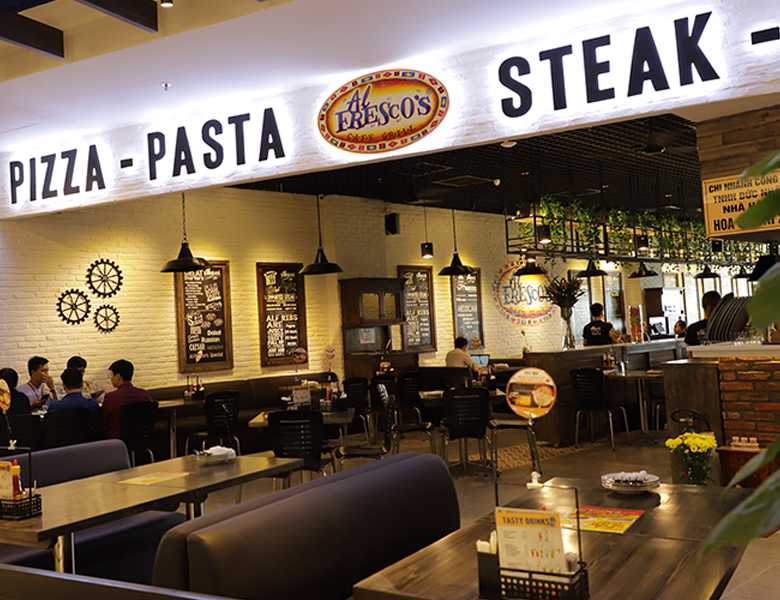 Our story
After operating in Hong Kong since 1992, The Al Fresco's Group opened our first restaurant in Vietnam, in June 1996.
With twenty years of valuable experience under our belt and a staff of almost 2000, Al Fresco's Group has further developed and opened an additional fifty additional restaurants in Vietnam.
The Group has carefully expanded with a vision to develop distinctive brands to satisfy diverse tastes and demographic markets.
The Al Fresco's Brand was developed with a vision to provide a comprehensive menu with Man Size portions at affordable prices. Our Jumbo Ribs have, and continue to WOW even the most seasoned patrons and we make more pizzas than any other restaurant group in Vietnam.
The Pepperonis Brand was created to offer similar comfort food, to that of Al Fresco's, however, targets a more youthful, local, and cost-sensitive crowd.
Papa Joe's Coffee was established to satisfy a niche in the market for tasty snacks, cakes, and great coffee.
Hot N' Tasty, in Hanoi, one of our most recent additions, offers a "Cook your own table BBQ" experience, with a fusion of Asian and European flavors for you to enjoy.
Jaspas, in HCMC and Hanoi, caters to a more business-orientated clientele, offering a comprehensive fusion menu with a wine collection to match, in quiet and relaxed surroundings.
Last but no means least is our stunning steakhouse, Jacksons in Hanoi.
Jacksons serves a large selection of top quality imported steaks, sensational imported seafood and unpretentious worldly cuisine, with an excellent extensive wine list to match.
Join our REWARDS PLUS PROGRAM to enjoy even more benefits!
Still Have Some Questions?
Don't miss out on our great offers & Receive deals from all our top restaurants via e-mail
Contact Us